UEF in the year 2000. We were a year older, a year wiser and more able to engage the community with what we do best.

For the second time we tried to combine the best parts of an open-air music, art and theater with the energy and ideas of environmental activists from the Capitol District.

Schedule of the day:

| | |
| --- | --- |
| 11:00 - 11:05 | Welcome, overview, events this hour |
| 11:05 - 11:25 | Mike Dimin - Solo Bass |
| 11:25 - 11:40 | Environmental Group Profiles |
| 11:40 - 12:00 | DJ Jack Justice |
| 12:00 - 12:05 | Welcome, recap, this hour |
| 12:05 - 12:20 | Environmental Group Profiles |
| 12:20 - 12:40 | Big Business |
| 12:40 - 12:55 | Environmetal Group Profiles |
| 12:55 - 1:00 | Events this hour |
| 1:00 - 1:30 | Carney, Landry, Paul, Brian |
| 1:30 - 1:45 | Environmental Group Profiles |
| 1:45 - 1:55 | Drum Session |
| 1:55 - 2:00 | Events this hour |
| 2:00 - 2:35 | Gobhi |
| 2:35 - 2:55 | Green Man, River Woman |
| 2:55 - 3:00 | Events this hour |
| 3:00 - 3:15 | Environmental Group Profiles |
| 3:15 - 3:50 | Tina Crapsi |
| 3:50 - 4:00 | Drum Session |
| 4:00 - 5:00 | One Flew East |
Groups and Organizations: (note: this information may be out of date.)
Musicians:
One Flew East - Boston, MA

"Melodic compositions to get the crowd dancing"


Tina Crapsi -

Albany area, NY



"Just her sultry voice and an acoustic guitar" will be enough to inspire you.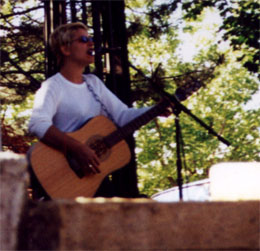 Tina Crapsi - Just her voice and a guitar

Mike Dimin - Albany area, NY

Watch his fingers fly up and down the Bass guitar with Funk and Jazz melodies.


Gobhi - Albany area, NY

Layered Vocal melodies and textured guitars of this Indie rock band are sure to please.


DJ Jack Justice - Schenectedy, NY

Spinning a blend of hiphop and dance music.
Artists:
Mary and George Baker - Award Winning Cloth Dolls and Wood Scupture
Showing at the Ilium Building, Studio 223406 Fulton St. Troy, NY
For appointment call 518-235-8297