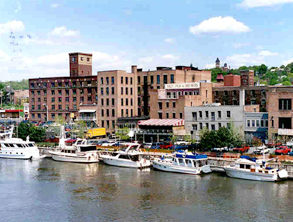 Much of the landscape of Troy is changing as old buildings are renovated, new buildings are erected and the streets are reworked. These developments are very exciting indeed. Neighborhood organizations are working year-round to care for Troy's open spaces, such as Mt. Ida Preservation Society. The Hudson-Mohawk Industrial Gateway is converting the historic headquarters of the Burden Ironworks into a museum of industrial history of the Capitol District. "The Approach" has been restored, reestablishing a connection between downtown Troy and the campus of Rensselaer. Keep you eyes open for more changes as the work continues.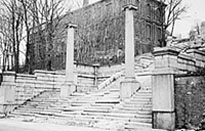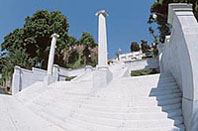 Here are some interesting facts about Troy:
Troy's nickname, "The Collar City", came about during the 1800's when more than ninety percent of the detachable collars worn in America were made in Troy. Cluett, Peabody, & Co. was a major manufacturer of detachable collars.
Troy was the first place in America where the Bessemer Steel Process was used.
The steel plates for the hull of the U.S.S. Monitor were rolled by the Albany Iron Works in Troy. The Monitor was the armored battleship used by the Union in the Civil War.
The Burden Iron Works in South Troy had the world's largest working water wheel. This is believed to be the inspiration for the Ferris Wheel, invented by an Rensselaer alumnus.
Troy was the home of Uncle Sam. "Uncle Sam" Wilson, a local meat packer during the War of 1812, was the inspiration for our national symbol.
It is the home of the first engineering school in the nation, Rensselaer Polytechnic Institute. Rensselaer was founded in part to train engineers to help design the Erie Canal.
Emma Willard founded the Troy Female Seminary in 1821, one of the first schools in America to educate young girls in geography, math and other material once thought too difficult for women. In 1905 Margaret Olivia Slocum Sage built a new campus for the Emma Willard school on Pawling Avenue and founded a college for women on the original site, named for her deceased husband, Russell Sage.
Troy Savings Bank Music Hall was erected in 1875 as part of the headquarters for the Troy Savings Bank. Still in use, it is widely considered to have some of the best acoustics in the world.
Image Credits:

Approach photographs courtesy of the Rensselaer Magazine.

Cluett, Peabody, & Co., Albany Iron Works, and Water Wheel photographs from Industrial Archeology of Troy, published by the Hudson Mohawk Industrial Gateway.

West Hall image and Troy waterfront image courtesy of RiverSpark(Troy Visitor Center).